Did you grow up playing sports? Maybe it was a gymnastics class on a Thursday night? Or little league baseball on a Sunday afternoon? I grew up playing sports and I LOVED it. Even when we didn't get the win, I had a blast spending the day with an incredibly team.
But having all these wonderful memories haven't been an option for most Canadian women. In a study conducted by Canada's Dairy Farmers and Canadian Association for Advancement of Women and Sport and Physical Activity (CAAWS), entitled Women in Sport—Fuelling a Lifetime of Participation, they found that 84% of women are missing out on the benefits of sports.
"As champions of healthy living and playing an active role in their communities, Canada's dairy farmers are addressing inequalities through the Fuelling Women Champions (FWC) initiative" says Caroline Emond, executive director, Dairy Farmers of Canada. "Launching this research publication is not only a significant stride for addressing pertinent social issues, but it is step in the right direction to propose actionable solutions and get people thinking about what they can do to change the situation."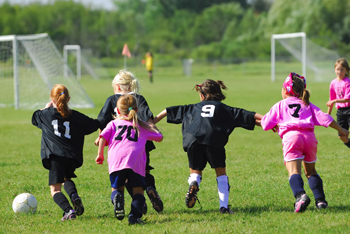 Among the study's key findings:
41 per cent of girls between the ages of 3-17 years do not participate in sport—and this jumps to 84 per cent in adult women;
Only 24 per cent of all Athletic Director positions and 17 per cent of all head coaching spots in the CIS are female;
Only 38 per cent of senior staff and 29 per cent of board members are female, among national and multi-sport organizations;
A review of programming data from

Canada's

primary national sports networks, concluding that of approximately 35,000 hours in programming in 2014, only 4 per cent went towards the coverage of women's sports, with over half of that percentage due to women's professional tennis coverage and the Sochi Olympics;
Only 5 per cent of the total area of top national print media sports coverage researched was dedicated to women;

While only 24 per cent featured any coverage at all;

The representation of women in sport commonly centres around femininity, rather than highlighting their athletic accomplishments.
The Fuelling Women Champions movement is campaigning to make sports accessible to girls and women nationwide!