Happy Sunday!
To celebrate a successful Saturday night out or a slow Sunday, what better way to ring in the end of the weekend with a hearty breakfast? As much as I've tried to improve this recipe from Epicurious, it just can't be done! The combination of lemon and ricotta with fluffy pancakes is just too delicious! With all the fruit in this recipe it feels a little more healthy than regular pancakes – right? Right??? Also my favorite thing on top of these pancakes is real maple syrup – fresh from the farmers market!
Cooking tip: you can get chestnut flour at most food stores!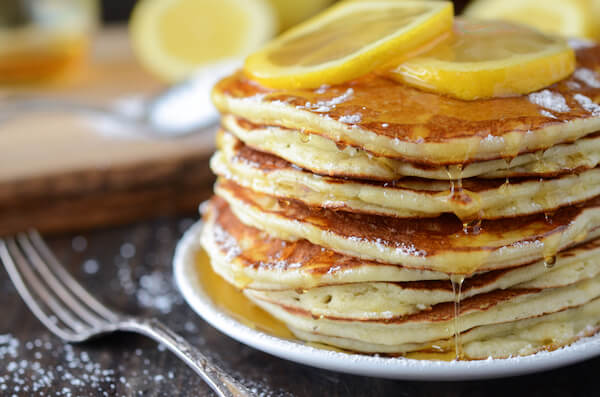 INGREDIENTS
2 cups ricotta
2 cups mixed fresh berries
1/3 cup plus 4 tablespoons sugar, divided
2 tablespoons fresh lemon juice
1 1/2 cups all-purpose flour
1/2 cup chestnut flour
2 tablespoons baking powder
1/2 teaspoon kosher salt
4 large eggs, separated
2 tablespoons finely grated lemon zest
1 1/2 cups whole milk
Melted unsalted butter for brushing
PREPARATION
Line a fine-mesh strainer with cheesecloth; set over a small bowl. Add ricotta to strainer and let drain for 15 minutes; set aside.
Gently combine berries, 1/3 cup sugar, and lemon juice in a medium bowl. Let macerate, tossing occasionally, until sugar dissolves and juices are released, about 15 minutes.
Whisk both flours, baking powder, and salt in a large bowl. Using an electric mixer, beat egg whites in a medium bowl until frothy. Gradually beat in 2 tablespoons sugar, beating until peaks form. Whisk the egg yolks, remaining 2 tablespoons sugar, and zest in another medium bowl to blend. Whisk in milk. Add the yolk mixture to dry ingredients; whisk just to blend. Add half of the egg white mixture; fold just to blend. Fold in ricotta, then remaining egg white mixture.
Heat a griddle or large heavy nonstick skillet over medium-low heat; brush with melted butter. Using scant 1/2 cup batter for each pancake and working in batches, ladle batter onto griddle and cook until bottom is golden brown, edges are dry, and bubbles form on top of pancake, about 1 1/2 minutes. Flip pancakes and cook until browned and just cooked through, about 1 minute. Transfer pancakes to plates. Serve with berries and their juices.